Biochemistry Focus webinar series - Open Access - ask me anything! │14 October 2020
Published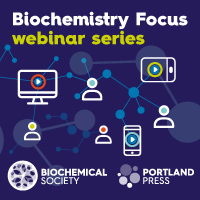 The Biochemistry Focus webinar series is organized by the Biochemical Society and Portland Press.
Join us on 14 October 2020 (3:00 PM - 4:00 PM BST), ahead of Open Access Week, to ask your questions to a panel comprising perspectives from an institution, researchers at different stages of their career and a publisher.
The transition to open access (OA) is accelerating, from the launch of Plan S in 2018 to the introduction of transformative publishing deals and flipping journals. This free online event will discuss what today's rapid evolution to OA means for the global research community.
The timing of this webinar coincides with the anniversary of the publication of the Biochemical Society's position statement on Open Scholarship. Join us for this panel discussion to discover the progress made in this changing landscape and demystify the terminology. Our panellists all engage with OA but represent different aspects of the research community. Attending this event will provide you with the opportunity to ask the questions you always wanted to and find out more about latest developments and what lies ahead.
This webinar will be chaired by Dr David Pye, Honorary Policy Officer, Chair of the Biochemical Society's Policy Advisory Panel, and Head of Chemical Sciences at the University of Salford, UK. Panellists include: Dr James Brown, Lecturer in Cell Biology, University of Limerick; Dr Simon Kerridge, Director of Research Policy & Support, University of Kent; Malavika Legge, Director of Publishing, Portland Press, and Chair of the Society Publishers' Coalition; Dr Helen Walden, Professor of Structural Biology, University of Glasgow.
To register for this free webinar, please visit the registration page here.